About Our Lamb
This article was from a Washing ton Post story by M.J. McAteer.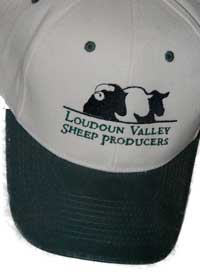 A Thanksgiving stuffing made with locally available Loudoun lamb sausage can be on your holiday menu as long as you're up for a drive through hunt country. Just stow a cooler in the car and head to Linda Landreth's Waterford Market, about 45 miles from Washington in Loudoun County.
Hers is the only year-round retail location in Northern Virginia that sells Loudoun Valley Sheep Producers Association sausage ($8 for a one-pound package of frozen links). Landreth's lamb links (try saying that three times fast) are savory and sweet, made from all-prime-cuts meat. The sausage is hormone- and antibiotic-free, with the lambs raised mostly in the open and grass-fed. The handling of their demise is done "humanely" at Wagner's Meats, a family business in Mount Airy.
"I checked out local processors to the point where they probably didn't want me to show up again," Landreth says with a laugh.
The resulting sausage is mild. "I have yet to encounter a kid who doesn't like it," says the shopkeeper-shepherd. The sausage is lean, too, so it doesn't need to be simmered in water to get rid of fat before it is fried, grilled or broiled.
Although it is a natural for breakfast, the sausage is good served whole in sandwiches with a Vidalia onion dressing. Yogurt mixed with chopped onion, garlic and dill also brings out the flavor. Landreth serves the sausage in holiday hors d'oeuvres, too. The links can be browned and sliced on the diagonal to be served with a dipping sauce or become a hearty spread themselves if the loose meat is removed from the casings, browned and combined with herbs and feta cheese. Or, of course, the sausage can go into stuffing.
Landreth's own Corriedales and silver-blue Lincoln Longwools graze right behind her Waterford Market, a testimony to how local this product is. She also sells fleeces, hand-spun naturally colored yarn and the wool hats and scarves that she knits from that yarn in her store.
Loudoun Valley may be "one of the most fertile valleys in the world," but a small farmer must be flexible to survive amid the pressures of development, she says. Providing the missing link in the food chain is one way to do so.